Six Sigma is a framework to make an organization more competitive by focusing on being effective and efficient. It is a systematic problem solving approach that is centered around defects elimination and variation reduction which leads to process improvement.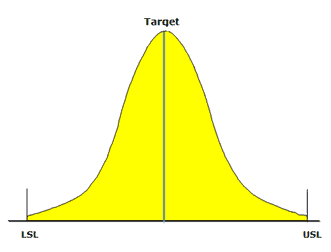 Six sigma is a continuous improvement process, with focus on:
Change empowerment
Seamless training of resources
Consistent top management support
Six sigma refers to the methodology and practice of focusing on developing and delivering products/services that perform at high standards. It is a Quality philosophy and a management technique. Six sigma is a not a standard or a certification or another metric like percentage.
Six Sigma's Basic Premises
The basic purpose of six sigma is to delight the customers; this can be achieved by delivering the quality product. Hence it is fundamentally focuses on variation reduction and waste elimination that ultimately lead to increased efficiency.
Variation is the range of difference between the statistical mean and all data points that are used to calculate the mean. In other words the extent which process performance varies around the mean.
Waste or defect is a measurable product characteristic that does not meet a customer requirement.(defective products).In other words, any process performance outside of defined specification.
Six sigma methodologies used to identify and eliminate the root cause of defects or minimizing the process variation (using statistical or process analysis methods) and also the costs that are associated with it.
Using a manufacturing example, let's say XYZ factory that produces widgets. The widgets are all supposed to be a certain size, shape, and weight. Randomly sampled output discover that out of every 1,000 widgets fifty are flawed (e.g. wrong size, shape, or weight). To correct this factory use Six-Sigma to determine what's causing the variation/defects and work to reduce them to a six-sigma level.
Six Sigma's Approach to Problem Solving
Six Sigma was originally coined by Bill Smith. He was an American engineer and also known as father of Six sigma. It was first implemented in Motorola in the year 1986 as a general approach to measuring quality in business performance terms. Further, it becomes popular management approach at GE with Jack Welch in early 1990s'.

General Electric reported tangible benefits of $2.5 billion per year due to Six Sigma initiatives and made it an organization wide strategy. Now it has evolved be a project driven approach to process improvement that follows the five-step process also called DMAIC cycle. (Also see: History of Continuous Improvement).
Overview Video
What is a Six Sigma Level?
Six Sigma derives from the normal or bell curve in statistics, where each interval indicates one sigma or one standard deviation. Moreover Sigma is a statistical term that refers to the standard deviation of a process about its mean. In a normally distributed process, 99.73% of measurement will fall within ±3σ and 99.99932% will fall within ±4.5σ.
For a process, the sigma capability is a metric that indicates how well that process is performing. Hence higher the sigma value, better the process.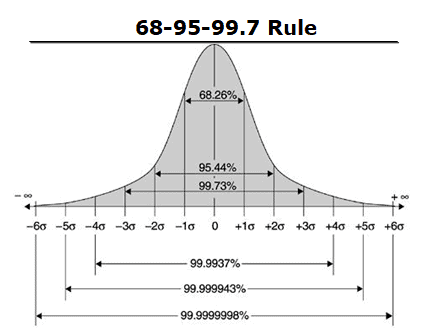 The 68-95-99.7 rule also known as empirical rule used to remember the percentage of values that lie within a band around mean in a normal distribution with a width of two, four and six standard deviation respectively.
In the above example the defect rate is 50/1000. Where as 6σ quality is 3.4 / 1,000,000.

A six sigma capable process will have Cp = 2.0, Cpk = 1.5 and DPMO = 3.4
Where Does the 6 and Sigma come from?
Sigma denoted by symbol σ (a Greek alphabet) represents standard deviation of a population. Primarily it characterizes the dispersion of a set of data values with respect to mean. It refers to the mathematical concept of standard deviation.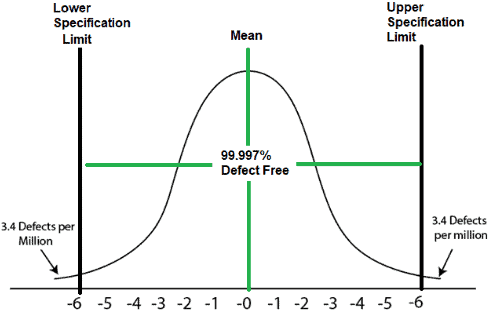 In a normally distributed process if mean ±3σ range of output is between USL and LSL then around 99.997% area of the points of the output will be non defective. In other words one can say the process is in six sigma level. The 6 refers to the ability to fit the good outputs of the process to fit within 6 standard deviations (or sigmas). Another way to say it is that only 3.4 defects occur per every million opportunities fall outside the control limits.
The Primary Goals are to Improve
Six Sigma is a data-driven methodology it contains statistical tools and techniques to define the problem and evaluate each step of a process. Six Sigma provides ways to improve efficiencies in a business structure and also improves the quality of the organization processes and increases the bottom-line profit.
How effective the process meeting or exceeding customer's needs and requirements.
How efficiently the process operates.
Three Key Elements of Six Sigma
Unlike other quality improvement philosophies, Six Sigma is comprised of three key elements:
Customer: Customer is the key for business and they are the top priority in Six sigma. Customers defines the Quality and also expect on-time delivery, high performance, service and many more. However, meeting customer requirement is not sufficient in this competitive world, needs to delight them.
Process: Defining the process and corresponding metrics is the key aspect in six sigma. Since customer is key for any business, Quality needs to be looked from customer perspective. This will help to identify the gaps in processes and work to improve them.
Employee: Without leadership commitment it is difficult to implement Six sigma in any organization. Organization must involve all employees with well defined roles and clear objectives in a six sigma program. Furthermore organization needs to provide required resources (like people, training, budget) etc.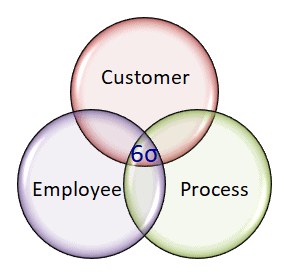 Philosophy & Methodology
Six Sigma is a result-oriented, continuous improvement process that includes active involvement from senior management.
Continuous improvement activities in an organization ensure to identify and solve the problems as and when they occur. Most of the modern quality improvement models such as sampling techniques, control charts, process capability and DOE, etc. have been influenced by the theory of continuous improvement.
Why Use Six Sigma?
Organizations face new challenges everyday like raising cost, customer issues, increase in defect rate etc. Most importantly global competition made it imperative to provide near perfect quality at low cost to keep customer delighted and make organization viable in the market place. Following are the key benefits from Six Sigma implementation
Creates robust products and services
Ensures customer satisfaction
Reduces process variation and also eliminate waste
Eliminates the root causes of problems and defects in a process
Reduces rework by getting it right the first time
Addresses key organization business requirements
Competitive advantage
Six Sigma Methodologies
Six sigma provides better value to customers, employees and all the stake holders in an organization. Additionally, it is a business initiative which improves quality, productivity and reduces cost.
DMAIC
One of the chief tools in Six Sigma is the use of the DMAIC methodology. (Also see DMAIC Overview). Particularly, DMAIC is a logical framework that helps you think through and plan improvements to a process in pursuit of achieving a Six Sigma level of excellence. In other words it is a data driven quality strategy for improving the process.
There are five phases that are used in the DMAIC method. They are as follow:

Along the way six sigma team to define the problem, work with sponsors and stakeholders, build and organize a team, and also deliver results that will be apprised at phase-gate meetings called DMAIC Tollgate Reviews.
DMADV
DMADV is one aspect of Design for Six Sigma (DFSS). In fact this was evolved from the continuous quality improvement and Six Sigma approach to reduce variation. However, it is typically used to create new processes and new products or services.

Define: Determine the project need and also identify the goals
Measure: Asses customer needs and prioritize requirements
Analyze: Analyze data, generate various designs and also select concepts
Design: Optimize design components and completes the design
Verify: Validate and quantify the design performance.
Amusing: How this conversation usually goes:
The Basics Videos
Additional Articles
Six Sigma Black Belt Certification Questions:
Question: The primary reason that most companies implement six sigma is to: (Taken from ASQ sample Black Belt exam.)
(A) reduce defects
(B) improve processes
(C) improve profit
(D) increase customer satisfaction

Login to your account
OR
Enroll in Pass Your Six Sigma Exam