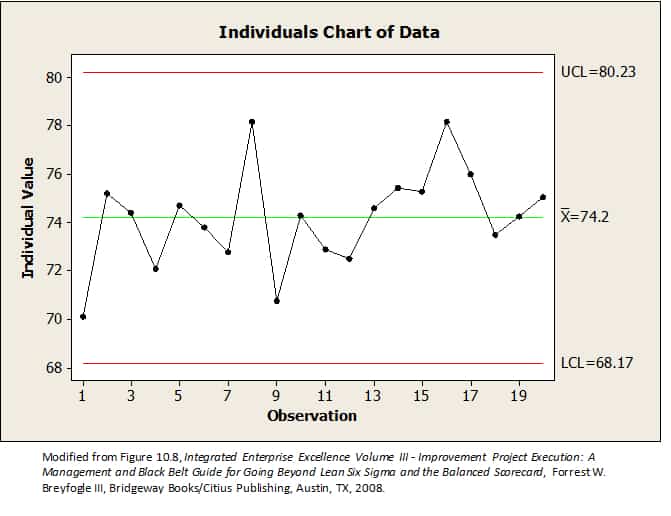 An XmR chart (aka Shewhart's Control Chart) calculates the control limits from the moving average range.
When to Use XmR Control Charts:
When you have continuous data.
When you have subgroups of size = 1.

You use the XmR chart only when logistical reasons prevent you from having larger subgroups or when there is no reasonable basis for rational subgroups.

Particularly useful when you are only making one observation per time period.
XmR R Control Chart Definitions
Range: Based on the consecutive differences in measures. First, find the average of your measurements, then calculate the absolute difference.
How to Create & Use XmR Control Charts
List all of your measurements for your XmR control chart.
Calculate the moving range by using the absolute difference between each measure and subtracting one from the other sequentially.

For example, if you have measures of 4, 6, 3, and 5, you will then get the following differences:

(4-6) = 2
6-3 = 3
(3-5) = 2

Calculate the mean of the samples.

In our example, the mean is 4 + 6+ 3 + 5 = 18.   18/4 = 4.5

Calculate the mean of the individual moving ranges. This will act as the control limit – plot this horizontally on the graph.

2 + 3+ 2 = 7. 7/3 = 2.333

Calculate the Upper & Lower Control Limits for the XmR control chart

UCL = Sample mean + 3* MR mean / d2
LCL = Sample mean – 3* MR mean / d2
d comes from a chart – you can find this in most reference books like this one.
The 3 refers to 3 standard deviations.
UCL in our example would =4.5 + (3 * 2.333 / d2)
LCL in our example would =4.5 – (3 * 2.333 / d2)

Plot upper control limits (ucl) and lower control limits (lcl)
Important notes