In the DMAIC methodology, a data collection plan is created during the Measure phase. It is a useful tool to focus your data collection efforts on.
Why Do You Need a Data Collection Plan?
Achieve Context
Simply getting "all of the data" and looking at it is not likely to yield great results; you can easily get overwhelmed. Or you could interpret the data in an incredibly unhelpful way. Here's a brilliant 5 min TED talk that ilustrates great data analysis flawed by not setting great context:
Save Resources
How many people work projects with unlimited resources, with no deadlines, and an unlimited budget? Not very many, right? Getting data takes a lot of time and may be expensive. Seems the rest of us need a better way.
Bounds of Reality
It may not be possible to get all of the data that we want.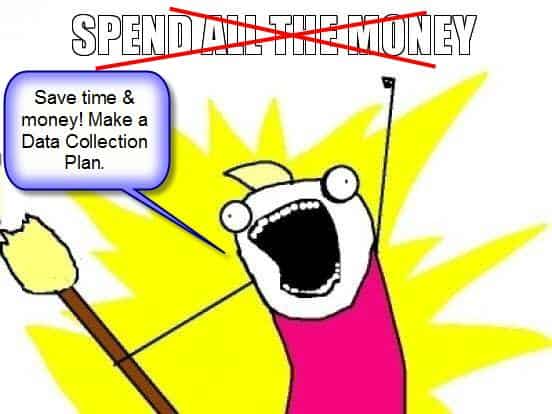 This is Six Sigma! We want to be efficient! By creating a data collection plan you can focus your efforts on answering specific questions that have business value. This directed approach helps you avoid locating & measuring data just for the sake of doing so.
"Acknowledging what you don't know is the dawning of wisdom." —Charlie Munger
Proceed to the next tollgate, Baseline Sigma.