One of the most common questions I get is 'How much time do I need to study for a six Sigma exam?' Another common question, not surprisingly is; 'Can I make it faster?'
"Could you tell us how much time a day or week you put into studying? I studied for the bar exam 13 hours six days a week for three weeks and passed. Do I need to put this much time in for my Green Belt." – Ramona
How Much Time You Need to Learn Six Sigma
This depends on training. I'm not a fan of the 3 day or 5 day courses where trainers charge you or your company a bunch of money and they certify you at the end. Let's just assume that you've signed up for a reputable Six Sigma training program.
How Much Time You Need to Prepare for a Six Sigma Exam
Like all things, this depends upon your level of knowledge going on in. For most people who have had good training, it takes at least 8 weeks of steady effort of a couple of hours a day. Of course if you have more time to spend per day, you can shorten this time. I wouldn't suggest less than 4 weeks unless you are certain you have an excellent command of the material.
I think this process can be simplified and 'hacked. '
I'd start by looking at which topics the exam you are taking favors (Green Belt vs Black Belt; ASQ, IASSC, other). Here you want to see which topics they have a large percentage of points allocated to. Then compare your scores.
Look at the Weightings
For example, here's how the ASQ and IASSC Six Sigma Green Belt exams weight topics.

Take a Benchmark Exam
Now that you know how important each section is, next, I'd take a benchmark exam to see how you rate in each section.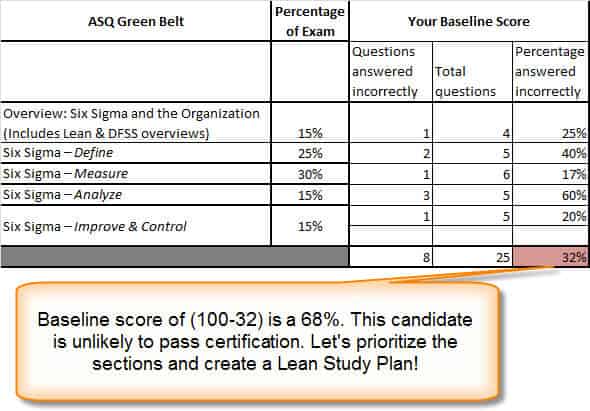 Focus on Your Problem Areas
If you did poorly in an area that a large amount of the points are based on, I'd start there. The example I show above indicates that the candidate only got 17% of the Measure phase questions correct. That phase accounts for 30% of the entire exam! Better start there and study up!
Dive Deep!
But there's another problem. The Measure Phase has dozens of subtopics. How would you know which subtopics to study? Or, going even further, what kinds of questions in that subtopic stumped you?
You'd have to do a benchmark quiz for the entire measure phase. Then you'd have to do the same for every type of subtopic.
Sounds Like a Lot of Work! How Can I Make it Easier??
If all of this seems incredibly manually intensive, it is. You have to find a ton of questions, stratify them to the topics, and then create your own quiz, take the quiz, then score the quiz. Even after you're done with all of that you have to divide all of the topics into subtopics and then figure out where the best reference material is to study to bridge the gap.
If you're interested in such a system, you're in luck.
The good news is that I have been building a system that does this for you. It will even drill into the topic to find the subcategories you've already mastered and steer you to the ones that you need to really focus on for the best return of your time spent.
If you're interested, please click here to purchase.
What is the Six Sigma Green Belt Study Guide and Practice Questions?
Well, it's a lot of things. Check this out:
Assessment Exams to determine your baseline understanding of key Six Sigma topics listed in the ASQ, Villanova, and IASSC Bodies of Knowledge.
Hundreds and Hundreds of questions with detailed answers and links to how to learn more about the topic. (Very helpful when you want to focus deeply on one area.)
9 Modules of grouped Six Sigma topics.

Six Sigma and the Organization
Team Dynamics and Performance
Define Phase of DMAIC
Measure Phase of DMAIC
Analyze Phase of DMAIC
Improve Phase of DMAIC
Control Phase of DMAIC
Lean Principles
Design for Six Sigma

Each Module is decomposed to several discrete Units allowing you to focus deeply on specific topics.
Each Unit contains a batch of multiple questions designed to:

Test your understanding of the material.
Teach you why your answer was right or wrong.
Show you where to go to learn more about topics you need to strengthen.

Each module has a comprehensive exam covering all of the topics in each unit to ensure you have achieved mastery.
After each module there is a comprehensive mini-exam to ensure that you didn't forget any of the material that came earlier.
(10) Full-length, timed comprehensive practice exams that mimic what you will see on exam day.
And by the way, the whole system is a-la-carte. You can access any module or unit at any time and go at your own pace. No drip content to force you to be a paying member longer than you need or want to be.
If you'd like to get access, please go here.
Of course there are still hundreds of articles to help you in your Six Sigma career for free on this website. And I will try to continue answering as many questions as I can, but my priority will be the people who purchase the Six Sigma Green Belt Study Guide and Exam Questions.
I've really enjoyed being part of this community and helping thousands of people on their journey. I'm very excited about this next evolution that should help many more achieve their certification goals. Thanks for making this possible.
If you'd like to purchase the Six Sigma Green Belt Study Guide and Exam Questions, click here.