Long story short; I've created hundreds of test questions and an automated quiz system that helps you focus your energy on studying the most important topics that will help you get the most points possible.
Where ever you are in your studying journey, this system will help you get more points on your exam.
Pass Your Six Sigma Exam Works:
Even if … you don't have a lot of time to practice.
Even if … you are taking different exams (ASQ, IASSC, Villanova, and more)
Even if … you are overwhelmed and do not know where to start.
Satisfaction Guaranteed
I am the only one in the industry offering 100% $ back guarantees.
Do the Work and You'll Pass Your Exam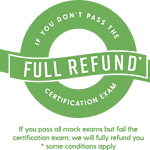 Do the work and pass all of the quizzes and mock exams with the required score (80-90%) and I guarantee you will pass your Six Sigma Green Belt exam.
100% of my students who complete all of the assignments report passing the exam easily. This is exactly the guarantee I wanted when I was studying for my exam but nobody in the industry would grant it. Makes you wonder about how effective their study guide are, doesn't it?
That Said, I Have Words of Warning
If you are looking for a short cut that doesn't involve any work, you're looking in the wrong place. You still have to work hard. I don't want people who think there is a "magic pill" for passing the exam.
If you have not spent time trying to learn Six Sigma concepts, this will not teach them to you. This is a studying system that will let you practice hundreds of questions and tell you where to spend your time studying.
If you are one of those "know-it-alls", then I can't help you. You've got to get out of your own way before you'll make progress.
But Don't Take My Word For It
I would like to thank Ted Hessing and SixsigmaStudyGuide.com for helping me successfully pass Villanova's Black Belt exam on the first try! The website complimented the material from the school as well as provided additional resources for a deeper dive as needed. I found the sample tests to be a huge help and would recommend anyone taking the exam to spend a lot of time with this section. Ted was very responsive when I emailed him requesting specific information about certain topics. He not only responded with additional resources but was encouraging throughout my study process! Thank you Ted and SixSigmaStudyGuide.com!

Sara McKeown, Villanova Six Sigma Black Belt
I took IASSC GB yesterday and passed with a good grade (first attempt). I did get a lot of your quizzes, they were a lot harder than the real exam because of a significant number of mathematical problems which I enjoyed solving so it prepared me for the exam. Thank you for creating the site, it did help a great deal.

Bamini Subramiam, IASSC Green Belt
I took my green belt exam in early June and successfully passed the exam. I appreciate you following up!

Stacey Geisel, ASQ Green Belt
I passed my proctored online 6sigma GB exam! Your sample exam questions study tools really did help! Thank you for your efforts and website!

Michael Tammaro, IASSC Green Belt
I took the test this past December and I passed! I am SSGB certified 🙂 Thanks for the great tests and well written and informative materials found on your site!

A Jehan, ASQ Green Belt
What if Studying to Pass Was Different?
What if you could dial in to the exact questions and topics you should be studying?
What if you could easily learn more about why some answers were better than others?
What if you could study anywhere you wanted to? Home, work, a few minutes on the train, waiting for the bus, etc?
I Believe That ​Passing Your Six Sigma Exam Should be Easy!
Hi. I'm Ted Hessing.
Have you ​been trying to figure out how to study for the Six Sigma Green Belt exam? ​
I mean the exam with dozens of sections, tons of topics, a billion formulas and rules, that covers content usually taught over a full semester​? The one that even though it was taught in English, it may as well have been an alien language for as much sense as the instruction meant?
Yes?
Than I know you've probably wanted to smash your computer to the ground!
[pmpro_sws]
Frequently Asked Questions
Who is This Course For?
This membership course is geared for the following kinds of people:
Those who need an on-line solution to completing the volume of practice test questions it takes to get comfortable before sitting for an exam.
ASQ, IASSC, Villanova or similar Six Sigma Green Belt Candidates who want a comprehensive way to pass their exam.
ASQ, IASSC, Villanova or similar Six Sigma Black Belt Candidates who want a strong refresher on the fundamentals.
Candidates who are feeling overwhelmed with the sheer volume of knowledge they are expected to master.
Candidates who are busy juggling careers, family, education, and the demands of studying for a difficult industry examination with a high fail rate.
Candidates who are wondering what topics to study when.
Candidates who would like a study calendar provided for them.
Candidates who want to be certain that they will pass their exam the first time.
What Do I Get With Sign Up?
Inside the membership area you gain access to hundreds of questions organized by topic. There are sub-topic-level quizzes (Unit-level), there are groupings of units into Modules and exams there. There are also cumulative review exams that group current module questions with selected percentages of previous modules so you don't forget what you already studied.
There are also many full-length mock exams of 100 questions each.
How Has Your Course Helped People Pass Their Six Sigma Exams?
Results have been overwhelmingly positive. Everyone who puts the time into studying and practicing the questions passes their exams across all major certifying bodies.
What's the Best Way to Prepare for a Six Sigma Certification Exam?
My best advice is to do as many questions as possible. Many people use my paid course to pass the IASSC, ASQ, and other GB. In fact, if you complete all quizzes and mock exams with a passing grade (80-90%) and do not pass the exam, I will offer a full refund. So far everyone who has completed the course, which is rigorous has passed their exam regardless of provider.
How Much Time Do I Need to Prepare for a Six Sigma Certification Exam?
This is highly dependent on the candidate. I find that assuming you've taken training already, 8 weeks is the best time. Some can do it in 4. It differs between candidates with experience, amount of time that can be dedicated, learning styles, external pressures (eg. I REALLY should have taken my exams before having kids.)
However long it was going to take you, my system will help you shorten your preparation time considerably.
What is the Best Strategy for Studying for a Six Sigma Exam?
I walk through my method of preparation in the free and paid areas but it boils down to your job is to get the most amount of points.
If you have time, I find that learning sequentially is the best as you gain an advantage from understanding the context.
If you have less time, the best way to do that is usually not to chase perfection but to chase areas of opportunity.
My best advice is to take training in Six Sigma and then complete mock exams until you can score within 80-90% consistently. That will prepare you for the exam day.
My mission is to get people to learn the material and pass the exams. The absolute best way to do that is exposure to hundreds of questions and critical thinking on why the right answer is correct, why the other answers are either wrong… or perhaps less correct. However you do it, via my paid member area or with other ways, be sure you get exposure to hundreds of questions.
How Similar are the Questions in the Course to the Actual Exams?
They are designed to be similar. However, there is no way to actually know that without having access to the actual questions – which would be cheating.
After mentoring thousands of candidates I have a good feel for what the various organizations are looking to test and how they go about asking their questions.
The pass rate of people who complete the course is 100%. That makes me feel comfortable enough to offer a 100% money back guarantee.
Remember that anyone who tells you they have the actual questions on the exam are either lying or have stolen them; you don't want to be associated with them in either case.
Will Your Program Teach Me Six Sigma?
You will know more about different aspects of six sigma than you did when you started after my course. But, no; my program does not replace a training course. My program is meant as a supplement – a way for people who have already learned the materials to get exposure to hundreds of questions. There are many people who know the material well but fail the exam because they just don't prepare for a standardized exam in the most efficient way – and that's specifically where I am trying to help out.
What is the Difference Between the ASQ, IASSC, and Villanova Six Sigma Exams?
In my experience, the ASQ test is the hardest due to the breadth of material and the calculations required. Villanova is next because they require significant knowledge beyond the training they provide. IASSC is easier for many people, but requires significant memorization that only comes from lots of practice questions.
I have study charts in the member area that spell out the similarities and differences. And suggest the best strategy for studying each of them.
This course will prepare you for all of them.
Can I Use This Course to Prepare for Both a Green Belt and a Black Belt Certification Exam?
The course is certainly enough for the GB. In fact, the most common feedback I get from candidates who pass is that they have been over-prepared for the GB by using it. And it is by design that I make it more difficult than the standards – that makes test time easier!
Many people do chose to use the current course to refresh their understanding before attempting the Black Belt. I get a lot of feedback from black belt candidates stating the premium green belt helped them achieve a strong foundation .
Will You Offer a Black Belt Version of the Course?
I'll be offering a Black Belt course once I can make it to my specifications. That will take a lot of time, the Black Belt BOK is tremendous and I have a high bar for quality! For now, if you're interested, try my current offering. If it doesn't suit you, let me know within the first 30 days and I'll refund your purchase.
I will be taking the Villanova Six Sigma exam and was cautioned about studying material from other programs. What are your thoughts?
That is fair. I took the Villanova first and they certainly did have their own spin on things. That said, I did build this guide to handle their items, ASQs, IASSCs, and others.
I also hired several other Black Belts to help me create questions to ensure variety. One of the common issues I (and others) have had with Villanova is that they test more than what they teach. Dan Munson, the architect of Villanova's Six Sigma program wrote a lengthy comment on that here:
Even though I did pass, I think that if I had the system I built, I would have felt a lot more confident about my chances.
Who and where will the payments will be going to? How many payments will be required?
There is one single payment that gives you a year-long membership. It is non-recurring. The payment goes through my processor (Stripe). Stripe takes all major credit cards.
Do You Store Payment Information?
I do not store any payment information. My site communicates with their system via HTTPS protocols. When their system clears payment, your membership gets activated and you gain access.
What is the Refund Policy?
I offer a 30-day trial period where I will refund your purchase 100%. Also, if you complete all of the practice quizzes and exams with a passing grade (80% in some areas, 90% in others) and then do not pass your exam, I will refund your purchase 100%.
What is Your Goal with SixSigmaStudyGuide.com?
My goal is to make you over-prepared so the real exam is easy. So far I have an amazing 100% success rate. I also offer a full 30 day refund in case the format is just not for you. That said, my mission is to get people to learn the material and pass the exams. The absolute best way to do that is exposure to hundreds of questions and critical thinking on why the right answer is correct, why the other answers are either wrong… or perhaps less correct. However you do it, via my paid member area or with other ways, be sure you get exposure to hundreds of questions. I'm always happy to help.
What's the Fine Print?
All memberships are intended as single-use only. In the unlikely event that a member allows other people to access their account, the membership will be revoked. It's also unacceptable for members to re-publish or otherwise share the question set.
Is the Free Trial Enough?
The free trial is not sufficient to pass. It is a severely restricted system with only a few practice questions. I offer it so people can get a baseline of where they are in their preparations and determine if they need more help. (Hint: nearly everyone does.) The paid system offers hundreds and hundreds of detailed questions and many mock exams.
More Testimonials
Overall your site has been extremely helpful for my exam preparation.

Tony Cai, IASSC Green Belt
SixSigmaStudyGuide.com is such an amazing website! The content is excellent.

Marco Gomez
I wanted to thank you for your awesome website! I used it while studying for my exam and passed the first time!

Nichole Marshall, Villanova Six Sigma Black Belt
First of all, thank you for making such a great website, it has really helped me with studying

John Harding
I have found your six sigma study guide amazing as a learning tool to gain my black belt!

Jonathan Kirby, Six Sigma Black Belt
Your website is awesome! I took the Villanova LSSBB course about a year ago and have put off studying since then due to family. I'm beginning to ramp up and I'm scheduled to take my exam in early September. Your site has helped me refresh my understanding of all things lean Six Sigma. Thank you, you've saved me so much time from having to go back into my text book and read through fine print.

Lucio Salazar, Villanova Six Sigma Black Belt
Just wanted to thank you, I really have appreciated the information you are providing. I am trying to be accepted by Villanova University in the Lean Master Black Belt Program and I thought of "refreshing" my knowledge of Six Sigma with your program

Jean Larou
Options
You have two options:
Option #1: Keep doing what you're doing (and be frustrated with the results.)
Option #2: Join the Pass Your Six Sigma Exam course and let me help you pass your exam.
[pmpro_sws]
Don't Be the One Who Fails Their Exam
How long have you been studying for?
How many times a week do you wonder if you're going to pass your Six Sigma Exam?
How many other people have you seen pass the exam every week?
How many people have you seen on LinkedIn with that Six Sigma credential beside their name?
It's sobering to realize that right now, at this very moment, we have the most free time we will ever have.
And instead of taking action we just dream about stuff getting better… someday.
Instead of grabbing our barriers by the throat and stuffing them in a trash bin where they belong, we let them claw their way back into our psyche and hold us back.
100% of the people who sign up to take a Six Sigma exam hope they will pass. Then why is the passing rate so low? You already know it's not the information alone. The information is out there. It's how you apply it. If information was enough, you'd have already prepared yourself for the exam.
Sometimes we need a little nudge from someone who has been there and helped others through. Someone to guide us and encourage us on our way through. So that after you take the exam you don't sit back with regret and think 'I wish I did that. I wish I at least tried.'
As always, a year from now you will be another year older. Will you be leading the kind of life that you want?
Join Now for Instant Access
[pmpro_sws]