A Value Stream Map is a visual depicting material and information flow. It is also a wonderful tool for visualizing process areas that need improvement and focusing attention on those areas.
Once the weaknesses or bottlenecks of a process are visible, organizations are driven to make the necessary changes to reduce waste and improve customer satisfaction.
Wait… doesn't that sound like process mapping? Yes, yes it does. So what's the difference? Glad you asked!
What is the difference between Value Stream Mapping and Process Mapping?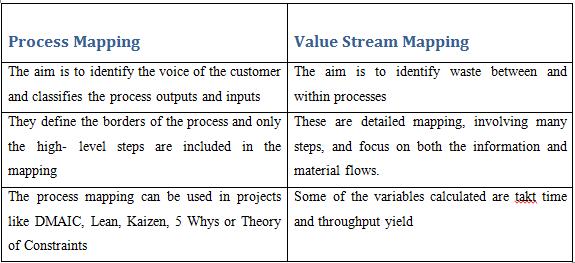 Both process maps and value stream maps are ways to perform current state analysis – in other words, visually identify how a process works today. Such current state maps are very helpful when considering process, system, or technological change because you want to know what is currently working, what is currently not working, and to ensure that your future state model preserves the best (or improves it) while preventing duplication of existing issues.
Process mapping is focuses on defining borders of the process and the main, high-level steps.
A VSM can be seen as a process map on steroids. It may include more steps than a process map and certainly includes additional timing data and focuses on both material and information flow. Many Value Stream Maps make use of Inputs and Outputs and their effects on the process – that is receipt of raw materials or necessary precursors (like decision steps, management sign off, etc) to the process to delivery of all necessary artifacts (goods, service, necessary paperwork, restocking, etc). There is much richer data that can be obtained from going through a value stream map.
Where a process map helps us visualize a process a value stream map helps us visualize and improve a process. Some of the things that we can calculate with a value stream map include takt time and rolled throughput yield. A process map can be included in many different typed of improvement projects like DMAIC, Lean, or Kaizen  or apply techniques like the 5 whys or Theory of Constraints.
The Value Stream map can take much more time to prepare and validate than the process map because of the additional data required.