Examines the difference between 2 sample means when sigma1 and sigma2 are unknown but considered equal.
Degrees of freedom = n1 + n2 – 2.
When the sample groups are not independent, the appropriate method to use to test for differences between the groups is known as a paired comparison test (or paired t-test or paired sample test). The null hypothesis for a paired t-test is that the average difference between the two values in each pair of data is zero (0). <text>
Use the Paired T Distribution to identify if a change has made a significant impact on a process.
Also see, Student's T test – for when samples are <30 in size.
Paired T Equation
What is the T Statistic?
What is the T Critical?
http://www.cliffsnotes.com/math/statistics/univariate-inferential-tests/paired-difference-t-test (Paired T test)
Sample Problem
Two operators are asked to check the same dimension on the same sample of 10 parts. The results are found in the table below. Is there significant operator measurement error? Test at the 1% significance level.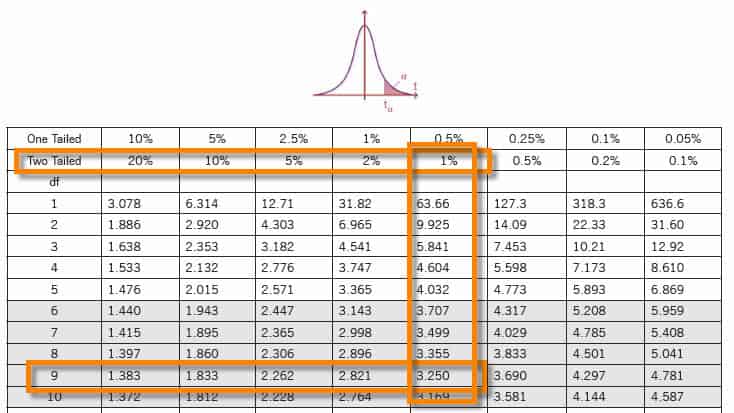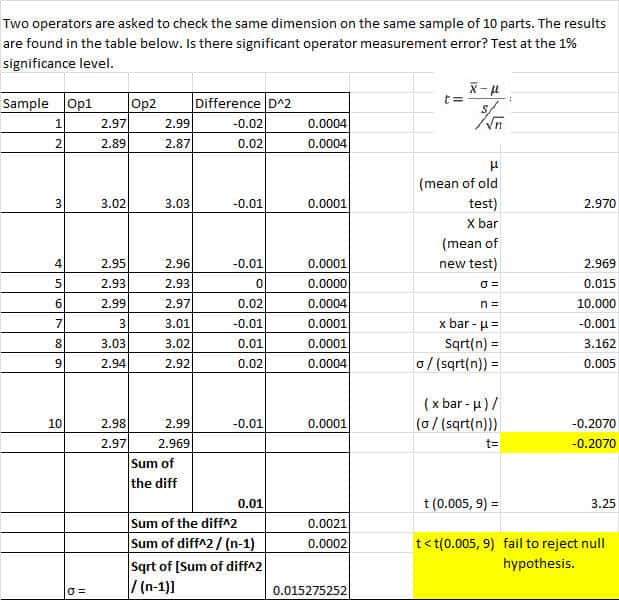 ASQ Six Sigma Black Belt Exam Paired T Test Questions
A black belt plans to test the performance of workers before and after training. Which of the following hypothesis tests should be used to determine whether the training actually improved the workers' performance?
(A) 2-sample z test
(B) 2-sample t test
(C) Paired t test
(D) F test
Answer: Paired T Test.   When the sample groups are not independent, the appropriate method to use to test for differences between the groups is known as a paired comparison test (or paired t-test or paired sample test)