On-Line Quizzes Have Been Upgraded! New Green Belt Question quiz and individualized studying sections and more Black Belt Questions have been added. Lots of goodness for everyone in this release!
Hi all! If you haven't noticed, 2016 has been a year of functionality improvements for SixSigmaStudyGuide.com. And each improvement is designed to help you pass your exams.
I'm excited. I hope you're excited! Let's review what's new for you in the free member section.
Green Belt On Line Test
Earlier this year I released an on-line version of the Black Belt exam. You can take 75 black belt questions, submit it for grading and receive not only a score, but detailed descriptions of each and every question, answer and option. Inside each of those descriptions are links to the articles that offer in-depth descriptions of what is required.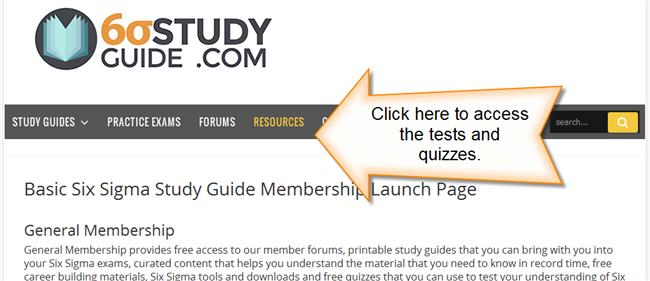 That worked so well for the Black Belts that I built out the ASQ Green Belt practice test. Now Green Belts get the same functionality for a 25 question set. Reports are that having in-depth descriptions of why each answer is right is very helpful in test preparation for all exam types.
Just click on the Resources tab on the top navigation bar and you'll be brought right to it. If you don't have an account, the system will prompt you to register.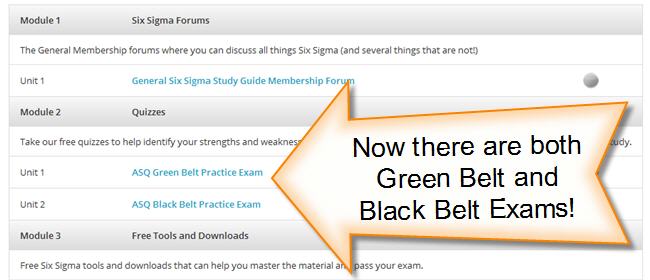 Green Belt Quizzes by Section
Maybe you are not ready to be tested on the entire green belt body of knowledge. Or maybe you want to focus your studying by section (highly recommended). Now Green Belts have the ability to focus attention section-by-section on individual quizzes, too!

Black Belt Question Pool Increased
I've noticed that many people studying for various Black Belt exams miss foundation problems that were covered in the Green Belt Body of Knowledge. To help those studying for the Black Belt exams I have added the Green Belt questions to the individual Black Belt quizzes. That means more questions for you to take, more in-depth answers for you to explore, and of course the same functionality to link directly to articles that you need more time reviewing.
And of course all of this is part of the free membership. Just sign up here for access!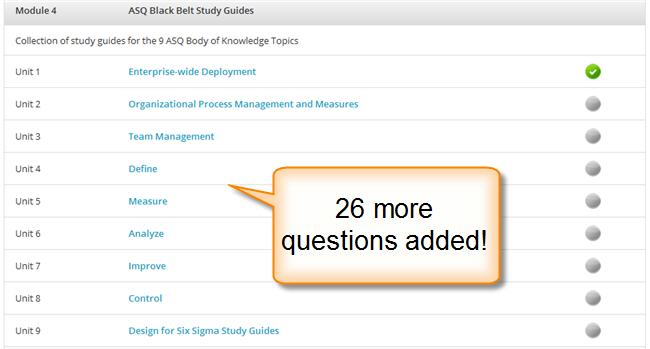 Future Upgrades and Help Needed!
I'm very excited to announce these upgrades. But please remember that I need your help to decide what to work on. If it is not valuable to you, I don't want to work on it! Over the next few weeks I will send a brief survey. If you are finding value in what I have built on this website, please take a few minutes to fill it out. If you don't tell me what you need, I can't help you ! Of course, you can contact me any time here, or reach out on the forums, or leave a comment on any of the 400+ six sigma articles I've written.
Here's to a great new year!