Hi all! Hope your Six Sigma journey is going well. If it's not, let me know what I can do to help!
I've added a study guide for those taking the IASSC Six Sigma Green Belt exam. There you'll find the all of the topics that you'll be tested on and links to articles that help explain the material.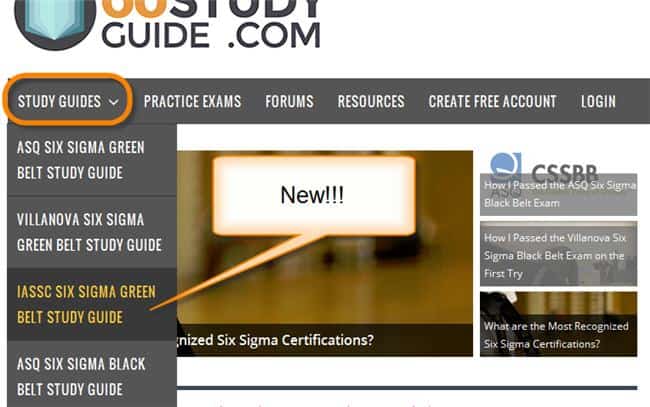 That brings the list of study guides up to six!
Green Belt Study Guides
Black Belt Study Guides
I strongly suggest that anyone studying for an upcoming exam read up on the articles linked to from those pages. Also, if you have registered for our free membership, you have access to several free downloads that I wished I had on hand when I sat these exams as well as free on-line practice tests and complete access to the forums.
Study Groups
Speaking of the forums, study groups are forming there now. Join up!
How I Passed the Exams
With so many people preparing for six sigma exams in 2016 I get a lot of questions on how to study, what to take with you, etc. If you're curious, check out the following two articles. Even if you are not sitting the exact same exam, I guarantee what I have written there will help you prepare.
Free Six Sigma Exams
Finally, I have a comprehensive list of free exams. You can find the list here. These exams are hard. After you learn the material the best thing you can do is to practice many different question types.
OK, hope that helps! More great things are coming soon. Can't wait to share!