Hi all. I'm very excited to introduce the Six Sigma Study Guide Forums! The forums are part one of a larger technology build out I am doing to this site that will include great new features like a free membership portal, free downloads and job aids, and automated practice exams – all great things that will evolve, build, and bring a lot of value to our community here.
Browse the forums or just skip to create a free account so you can use them (and so much more)!
I am sincerely so incredibly excited to bring these features to life. Let me share some of the thing that I think you'll like the best out of our forums: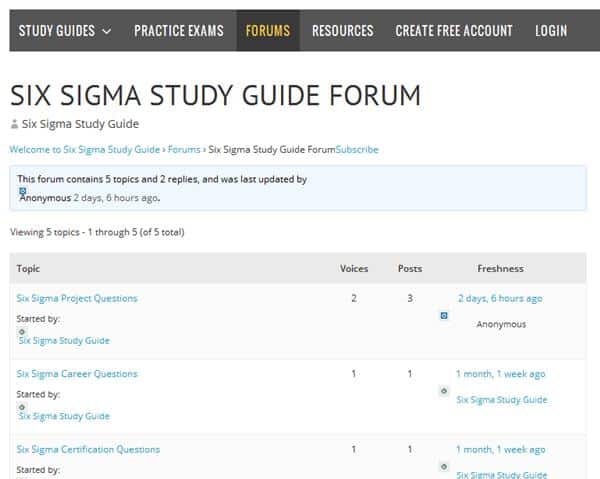 Build a Community
The forums were inspired by requests from many of the great visitors to this site. And honestly, I wanted to build something I wanted to use that I don't see anywhere else.
A Forum for Real People Used by Real People
You need a real social account (LinkedIn, Facebook, or Google) to register and use the forums.
Too many places on the internet allow people to register anonymously. That enables a few bad behaviors. I wanted to avoid those while promoting good ones.
Open, honest communication:
Too often I see people new to Six Sigma and other concepts post a question on a site only to be attacked by the senior members for daring to ask a question. There is no reason for that. You would never do that in person. People tend to act differently, however, when their real names are on the line.
Sharing, Teaching, and Helping – not doing homework or (real) work for others:
There's another issue of people trying to take the easy way and post exam, quiz, or take home test questions on forums looking for an easy answer. This extends to case studies and other employment-area items. Asking for and giving help in those areas is great by I hope that by having authenticated access system we will have honest dialogue instead of catered solutions.
Attack of the Salesmen and Sales Bots
Too many forums and groups go out of control as people use them to post items for sale. That gets worse when there are automated bots that can spam users to no end. That will not happen on this site.
User Experience
Multiple Perspectives
I have written over 300 articles on this website that get thousands of views per day. However, these articles are written in my voice and my understanding of the topics. Chances are that you have questions, thoughts, experiences on these topics, too.
Additionally, there are probably topics that I haven't yet written about that you'd like to see.
Now there is another way of creating a conversation about these topics (in addition to emailing me or commenting at the bottom of any of the articles.) Better yet, forums allow us to have an open conversation with multiple points of view represented. This allows us to learn from each other.
Timely Access to Information
I have tried my best to keep up with all of the conversations resulting from this website. However, as the community grows, it gets more difficult to respond in a timely manner. With a forum I hope that each member of the community can help educate each other and share knowledge and resources.
Also, the search functionality makes finding past conversations easy.
A Final Note About the Forums and Membership Area Build out.
As always I appreciate everyone for visiting this site. I hope to continue to be able to provide great value. If there's something that is broken, that does not work as well as it should, or otherwise, please let me know.
Please take a few minutes to get registered if you're not already and post a quick message saying hello! Remember, you can always access the forums by clicking the link in the header at the top of the page as shown here:

I've opted to build quickly and worry about the aesthetics later. Over the next several months many upgrades will be happening. But if there is something that you see that really needs attention, don't hesitate to let me know (here or in the forums). That will help me prioritize this massive backlog of work!
Browse the forums or create a free account so you can use them (and so much more)!